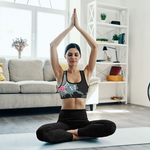 Lose your mind and find your soul. I think it was a song lyric.. remind me if you know where from! Yet that beautiful little collection of words is so poignant right now. In these times we realise who we are, how we measure up and what we can bring to the table.
After a long career at sea, I understand only too well the term ' all hands on deck ' these moments that test every ounce of who you are as a crisis hits. Most of the time I was up against mother nature in voracious weather.. she was a firm teacher with a large measuring stick.
These times, although very different still deepen our connections with ourselves, we have to choose who we are in these moments. The call is to 'stay at home', is a far cry from a mid atlantic storm - however it still tests our mental and emotional capacities.
Mila J has been born and based from and around sacred geometry, the power of frequency and the mystery of collective energy. My go to for this time has been the powerful solfeggio frequencies. Really do give them a try.
Strengthen the mind and make beautiful soulful choices.
With Love - Namaste Sx